SRAM Eagle Drivetrain Issue - Dare I say design flaw!
YAY! It's Christmas time and the bike that I've been eyeballing for way too long now is finally on sale: the YT Jeffsy. At first I was aiming for the Pro Race, but they were sold out of large, so I opted for the Pro; the next one down in black.
The CF Pro is well kitted out:
e*thirteen hubs and wheels
Fox 34 Performance Elite fork
Fox Float DPS Performance Elite rear shock
Race Face SIXC carbon fiber handlebars
Race Face Turbine stem
Race Face Turbine dropper post with 1x lever (meh, this thing has issues)
SRAM Guide RSC brakes
...and the SRAM X01 Eagle drivetrain
What I'm here to talk about right now is the SRAM X01 Eagle Drivetrain.
Upfront, I have to be honest with you: I am not a SRAM fan in the least. For several reasons that all pertain design flaws. Specifically in regard to their pre-pulley derailleurs, the seals on the Rockshox Boxxer (Rockshox is owned by SRAM) and now with this Eagle drivetrain.
This article focuses primarily on the Eagle drivetrain, but I will touch on the derailleurs and Boxxer seals at the end.
The Story...
The day comes just after Christmas when my new bike shows up at the door. The same UPS guy that brings me all of my online bike related orders. He now knows me by name.
As you would imagine, this is my face when it shows up: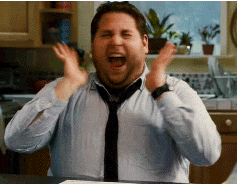 As soon as I get the box up into my appartment I tear into it and start putting it together.
Once assembled I get it up in the stand to start tuning the shifting and this is when things start to get interesting. The video below illustrates how the largest cog of the Eagle cassette can become out-of-sync with the chain.
As soon as I saw this I said, "OK, there has to be other people complaining about this issue out on the interwebs somewhere". So I did some searching and this was the first link that popped up: http://monosujet.com/2017/08/12/sram-eagle-shifting-problem/. That article is titled SRAM Eagle Shifting problem, but to be fair I don't have a shifting problem at all; it shifts nicely. That being said, the article does discuss this exact issue. Even stating that Pinkbike noticed this same issue during their testing.
So what's going on here?
It's pretty simple and it's easier to see on the backside of the cog.
First, let's all remind ourselves what a chain is: it's a series of metallic links that consist of inner and outer plates. Sorry if that comes off as condescending, but it's important.
This cog has a narrow-wide tooth profile. The problem here is that when the chain shifts onto this cog, if an inner link of the chain ends up on a wide tooth we get what can be considered as an out-of-sync drivetrain which results in the chain riding on top of the cog.
The wide teeth on this cog are about half of a millimeter wider than the tolerance allowed by the inner links of the chain. That's a significant amount of exceeded tolerance. Below images illustrate this with the use of a digital caliper. I did two samples of inner links.
And a wide tooth on the cog:
So there you have it. There is no way for this drivetrain to guarantee that the outer links of the chain will always mesh with the wider teeth of the largest cog. It's just not possible.
This is a design flaw and one that should have shown up during SRAM's testing of this product. How this got through their testing and how they're still selling these things is beyond me.
I'm going to make an attempt to fix this. I'm gonna go ahead a grind down the wider teeth to make them better fit the inner chain links. I'll follow up here soon and let you know how that goes.
As for the derailleur and Boxxer seal issues, I'll do up separate articles for those shortly.
Thanks for reading.
UPDATE
Aaaaaaaaaaand fixed!
I'm happy to report that my analysis was correct and my fix worked. It was a pain in the ass to do and quite risky taking a knock-off Dremel to a ~$400CAD cassette, but it worked.
The video below shows the fix and the result.
Now, I know what you're thinking: what the hell are you doing quite possibly premanently damaging a crazy expensive cassette like this? How can that be worth the risk?
For me, it was worth it. I didn't feel like I had anything to lose except for my time. SRAM clearly hasn't owned up to this issue yet so there's no option to send it back for a new one. I was quite confident in my analysis of the issue and the potential fix for it so I figured, if it didn't work, all that I might lose is the large twelveth cog (or first gear as we should probably refer to it as). No problem, I still have eleven more. I'll just lock out the first gear with the range adjuster screws on the derailleur and carry on.
This was also worth it for me to prove that this was indeed a design flaw. I've come across far too many of these coming from the SRAM camp and I just couldn't let it slide anymore. It's time to call this shit out.
I'll write up the articles on SRAM's derailleurs and Boxxer seals as soon as I can.
Again, thank you for reading.
ADDENDUM
I came across this review today: https://www.bikemag.com/gear/components/review-sram-eagle-12-speed-drivetrain/.
In that reivew near the end, the very first picture in the picture carousel is an image of the cassette laying flat. It's kind of difficult to tell, but if you look closely it looks like this cassette does not have the wide teeth like mine does did. It could be that SRAM has fixed this issue and it could be that I received some old stock from YT.
Just wanted to add that.